How to Get the Most from

www.

Real Estate Summit County 

.com
You can maximize your experience here at Real Estate Summit County by familiarizing yourself with the comprehensive search tool. A click on the Real Estate Summit County logo - top left of every screen - takes you to the homepage, as you would expect, and the search tool is at the top.
Besides being, possibly, the most customizable search available anywhere, new listings appear as soon as they are entered by the listing Realtor. No site is faster — not any of the national sites including www.Realtor.com, run by the National Association of Realtors. Active listings are updated instantly. While very few other sites show them, Pending Listings are included here at Real Estate Summit County. Pending listings are the best indicators for someone thinking of selling. What information is better than what's under contract, at this very moment, in your neighborhood?
Like pending sales, recently sold properties can also tell potential sellers a lot about the market. That's why our search tool defaults to SOLD property. Just click the top row of buttons to switch from Solds to Pending or Active listings. What you're seaching is highlighted as a gold button, and listed in "Your Search Criteria". The second row of search filters includes all the most commonly used criteria, but others like Ski In Properties can be found by clicking "More Search Criteria," at the bottom right in a white search box.
This terrific search vehicle can be accessed from any page by clicking the Search Active, Pending & Solds button on the permanent left menu.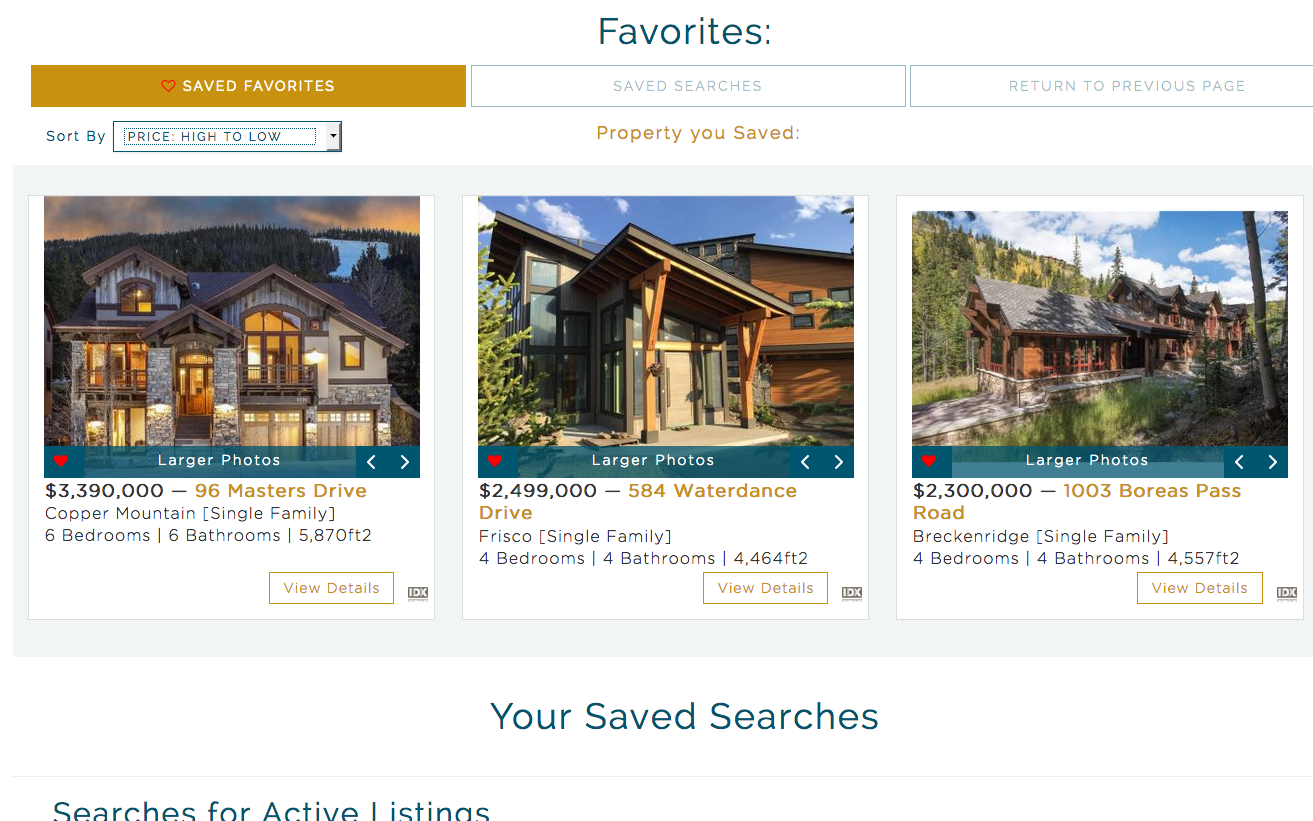 Search to your heart's content but if you want to save properties as a "Favorite" on this site, you'll need to sign up - just your name and a password — in order to keep your favorites associated with you. If you do sign up, you can also save a 'search'. That means you won't have to add your criteria every time you come to this site. When you save a search, you can also ask to be notified automatically when something new that meets your search criteria is added to the MLS. And unlike other sites, we offer you every type of search criteria you could want.
This is particularly helpful if you are monitoring the market for specific properties, for example, if you are thinking about selling your property, with all its specifics that are familiar to you. Really, you'll find it so intuitive, the Real Estate Summit County search will help tremenously if you are selling or buying real estate in Summit County.
---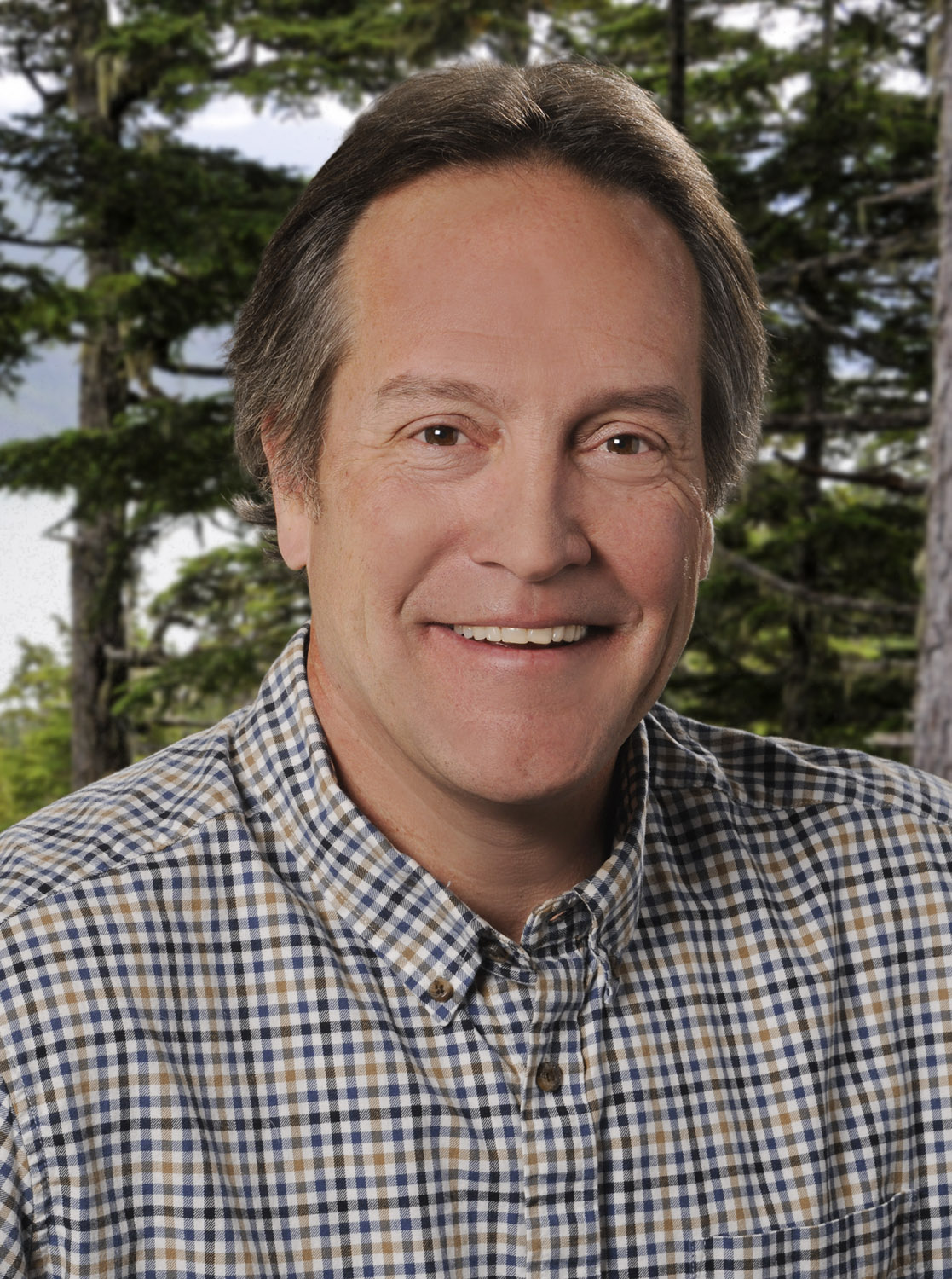 " My goal is to maximize your home's potential for profit, then position it in the marketplace so that it sells as quickly as possible."
Simplify Real Estate Success & Sign Up
---
How to Use Real Estate Summit County's Search:
Like anything innovative, this tool might take some clicks to feel famililar, but after a few it will be very intuitive. Our search tool defaults to showing you SOLD property. Click ACTIVE or PENDING to change the search to listings that are active or pending. Your criteria will not be lost.
Expand Search: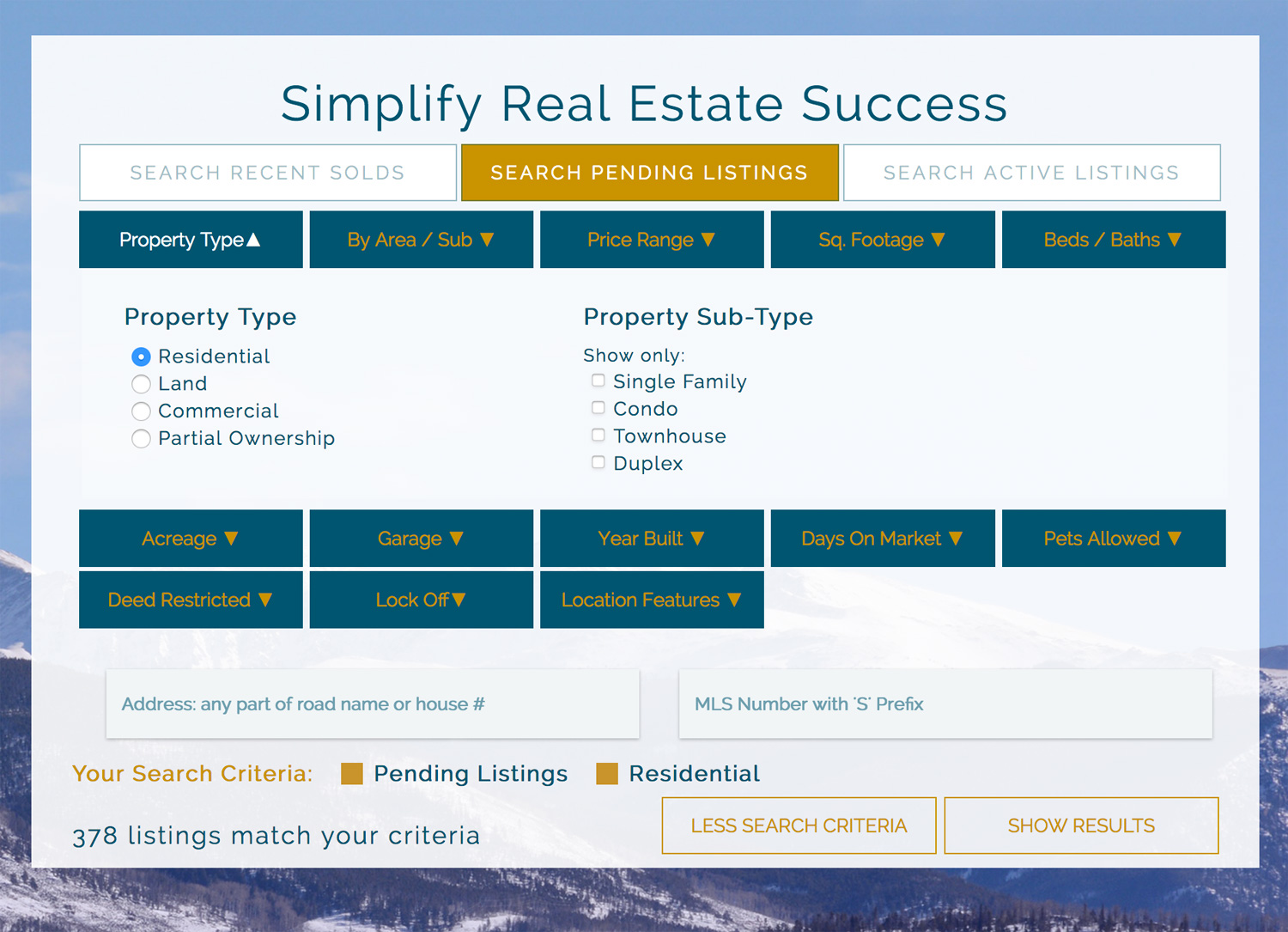 "More Search Criteria" - the first white button - offers more filters than the first row, as you can see from the image on the right that is open to "Property Type". Residential property is the default - for most users - and here, too. So you'll need to go to 'Property Type' to change the filter to Land, Commercial or Partial Ownership. On this tab, you can also limit your search to types of residential property. For example, you could search for condos only, or condos and townhomes (you are able to select as many as you want). If you want more filters, like Pets Allowed or Deed Restricted or several others, click on the gold-lettered name, and it will open just like "Property Type" shown here, and close the previous filter.
Filters you choose will be displayed in gold above the "More Search Criteria" button, so you can see what parameters you've set to search. This information will still be visible when you click the button "Show Results," and you can add more filters from the results page, so don't worry if you've missed something. You can see in real time how many listings match your criteria. (Last line of the search section). If you add more filters, you will see the number of matches update immediately.
Show Results:
"Show Results" takes you to another page showing all the results that meet your criteria (12 per page). Here you can eliminate filters on your search by clicking any of the gold & white checkboxes. You don't need to return to the home or main search page. You can also open "Modify This Search," and see all the filters. Details are pithy here, and thumbnails viewable by using the "<" and ">". A click on the "Larger Photos" will open the same images at medium size.
See Properties: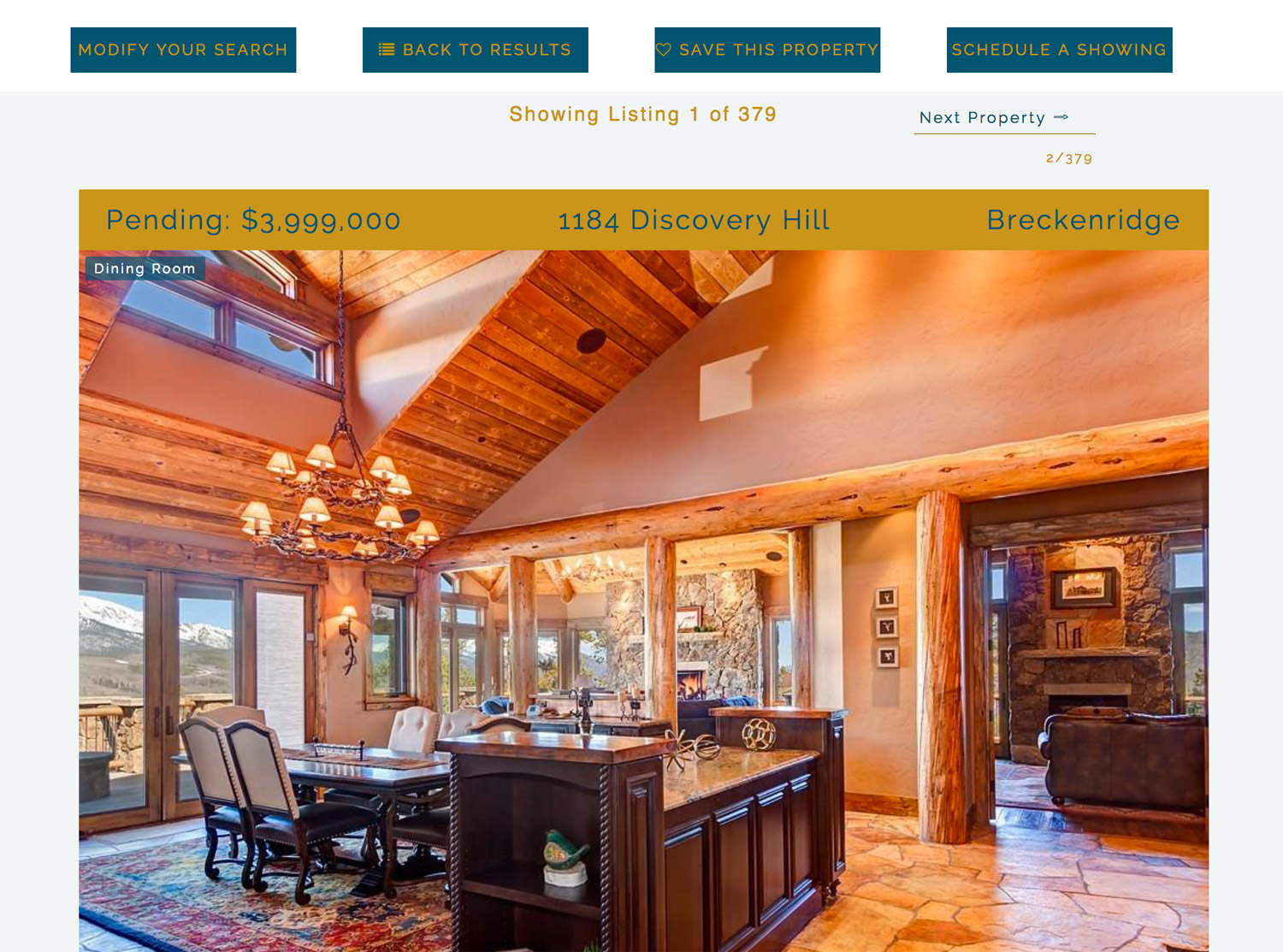 On the results page you can see pictures and a few details of each property, but "View Details" will get you all the information that the Realtor has included in the listing. Starting with large pictures that you can advance with back and forward arrows without leaving the page, the details that follow are first, the most essential, then a description, followed by a long list of specifics. The other properties that met your criteria are available using the Previous Property and Next Property-> links, just above the photos. A click on the will save it to your favorites (or prompt you to sign up if you haven't done so). Use the link in the left nav to get back to your favorites.
Scroll down these property specific pages for information as detailed as roof type, levels in the condo complex and the unit's level. Below the listed details is a map to the property and, if available, MLS history and public records.
Real Estate Summit County calculates daily Market Statistics - for properties sold in the Summit County MLS. The charts on this page use similar filters to the properties search. You can find statistics already filtered for a neighborhood by selecting it from the list on the Neighborhood Stats & Sales page.
Hopefully, this site will make more efficient your real estate project, whatever it is.

Simplify Real Estate Success & Sign Up
Sign up to gain access to subdivision and area information, comprehensive customizable charts, stats and more market data.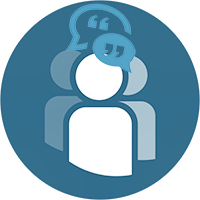 " We highly recommend Mike Krueger as a Realtor. He is energetic, compassionate, intelligent and extraordinarily attuned to detail. He made what could have been a fatiguing and worrisome transaction for us, pleasant and complete. Mike is a true asset to his profession and, in our opinion, should be given top consideration to represent your real estate needs."
JoAnn & Richard R.